Creation of the Saskatchewan treaty border – municipal map happened unintentionally, but has emerged as a landmark tool for understanding our province's shared history. The project's impetus came from the Truth and Reconciliation
Commission of Canada: Calls to Action Report (2015). Certainly past schooling had not dealt with European settlement into western Canada, yet my family history raises conflicting stories about early settler relations, residential schools, and 70's scoop events. Questions continue to arise from a child's perspective who heard and believed "good-news" stories from a teacher working at residential schools across western Canada, and clearly conflicting with the devastating experiences told by many First Nations people who report feeling threatened with cultural genocide.
As niggling questions continued to arise, and since I'm a seamstress, I decided to construct a textile panel with the hope that through physical manipulation of drawn threads and fabrics, understanding would emerge to help work through personal reconciliation challenges. Throughout the learning journey, I kept asking "where are the treaty areas located in relation to communities in Saskatchewan?". With no answers readily available, a search was undertaken to locate a template for the textile panel.
Over the first five months of 2017 I connected with many groups in the Regina area and the Office of the Treaty Commissioner, attempting to find an accurate visual reference of where and how provincial communities overlay treaty boundaries across the province. Best sources and contacts were via Paula Daigle (head librarian at FNUC), with mentoring from Sarah Longman (Supervisor of Aboriginal Education, Regina Public Schools), as well as many other learning linkages. When major Regina information sources were depleted Bill Waiser, former U of S prof and noted historian, was contacted, but he also was unable to provide specifics.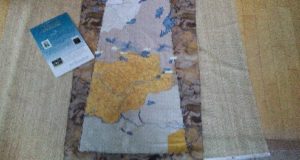 Finally, when Incorporated Services Corporation (ISC aka "Land Titles) indicated that they did not have such a map, that's when the map was commissioned, with production involving four staff. ISC was also asked to overlay the treaty dates and provincial municipal boundaries so the map shows, with historical accuracy, the major governance systems coexisting in the province.
Throughout the search many groups indicated the importance of such a document and provided strong encouragement. A first revision was done in 2021, which also shows the increase of treaty land entitlement acquisitions and increased number and location of Hutterite colonies.
The end desire of this secondary project is to allow the public to have a generally agreed accurate reference document that encourages thoughtful, informed conversation surrounding governance and legal issues, and establishes a midpoint reference of understanding between history deny-ers and those engaging in cross-cultural appropriation. Although the province has had a jagged history of race relations, coming together with a common understanding is a serious, intentional step to move the process forward. To further an accurate understanding of our shared past history the map should be permanently on display at public and provincial venues thus encouraging all Saskatchewan residents to self-educate themselves- located at libraries, public and post-secondary institutions, municipal and band offices, museums, government and judicial offices and other venues. Ignorance and hatred are vile, socially destructive forces. At least ignorance can be corrected.
Contact Sources:
Regina Public Library, Office of the Treaty Commissioner (Saskatoon), First Nations University of Canada (Paula Daigle/librarian), Provincial Archives of Saskatchewan (with referral to National Library and Archives/not initiated), Indigenous and Northern Affairs Canada (several staff), Regina Public School Board/supervisor of Aboriginal Education (Sarah Longman), Prairie History room RPL/Warren James; Trevor Herriot, Royal Saskatchewan Museum (First Nations programmer Theresa Walters), Saskatchewan Association of Rural Municipalities, Saskatchewan Urban Municipalities Association, Dr. Bill Waiser (email), OTC presentation at the Regina German Club, Saskatchewan Museums Association, Western Development Museum (Saskatoon), United Church of Canada/Saskatchewan Conference, Information Services Corporation (geomatics).
Special acknowledgement to Knox-Metropolitan United Church for its continuing intentional TRC education programming including Unsettling Ideas book club series (in partnership with Saskatchewan Writers Guild), Elder Lorna Standingready/Understanding Native Spirituality, and Dr. Blair Stonechild/Indigenous Spirituality and the Evolution of Religion; KAIROS Blanket exercise.